Below you'll find the most recent and general news items. If you're keen on staying connected to read more inside developer stories and previews please join the CaseTalk community.
---
January 2017
CaseTalk Modeler 8.17 contains fourteen fixes and tweaks to enhance the user experience. If you have a copy you are eligable for a free update. Simply login to the website and download the appropriate edition. Changes affected various areas, such as:
Exporting
Diagramming
Project Management
Read more on our Modeler changelog and the changes for the Manager 4.2.
December 2016
CaseTalk Modeler 8.16 contains a few enhancements and fixes:
Portable App installations on a readonly fileshare supported;
Import/merge support for diagrams added;
Various diagram improvements which cleanup the presentations.
Read more on our full changelog.
November 2016
CaseTalk Modeler 8.15 continued it's support for model construction:
Change Role PlayedBy more easily from the Diagram;
Derive datatype from Label Type Property Dialog;
Wizard to split Fact Type with one UC on N-1 Roles and more than 2 roles;
Automatic administration of altered expressions during model constructing.
Read more about the new construction functions, or visit our full changelog documenting more tweaks and fixes. An update to the Viewer and Manager was made to support this new Modeler fileformats.
Oktober 2016
CaseTalk Modeler 8.14 continues to add new features. This is the short list of seven new additions:
For resource monitoring users, we print the used memory in the statusbar.
The export of the repository to XLS Spreadsheet is added.
Export of your Custom Attributes is included now.
Brand new support for Denodo Data Virtualization scripts.
Extend your information model with custom annotation types.
Easily transform a Rolefix to ObjectType (reverse function of the "Reduce Object Type").
Quickly construct Label Types for future use in your model.
Read more about the new construction functions, or visit our full changelog documenting eight more tweaks and eight minor and major fixes.
September 2016
CaseTalk Viewer v2.7 has improved it's support for documentation. It uses the annotation block to express the business meaning of the columns in the table, and also accompanies this with an example population.
The CaseTalk Modeler v8.13 now provides session support. When modeling during sprints in an agile project or scrum team, you incrementally adjust of expand your information model. Every time you now start a new session, you may specify the defaults for your custom attributes to keep track of this specific session scope. AND additionally you may now for the first time ever, reorder the roles in the expressions by opening up the expression edit dialog and drag the object types to the destination you desire. (watch demo)
This is how the Viewer can present table documentation according to the users specifications and verbalizations, including the examples as entered in the Modeler: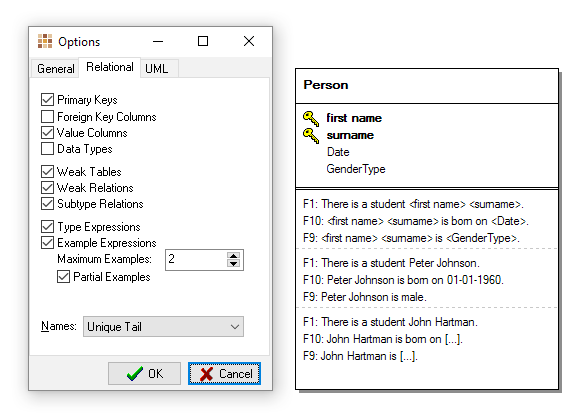 September 2016
CaseTalk Modeler 8.12 contains some grand and brand new features, enabling you to construct your model without the immediate mandatory details our FCO-IM community is used to. These functions have been added to both provide more speed during intense modeling sessions for advanced users, and also to provide a less steep learning curve to beginners.
Also our menu structure has received a big, long overdue overhoul. The "tasks" menu is now available from the main menu, contextual menu's and provides menu items for constructing and editing the model in various ways. This also adds to the visible power of the method and tool.
Read more on the construction functions or please visit our ticket pages for the changelog.
August 2016
CaseTalk Modeler 8.11.3 and Manager 4.0.3 have been released, fixing a few minor issues.
Modeler 8.11.3:
Improved primary key handling
Fixed invalid verbalization of some rules
Fixed diagram information misplacement
Manager 4.0.3:
Added detection and display of installed database schema version
Added filtering for members/users
Improved session and user account handling
For a full disclosure of fixes and changes, please visit our ticket pages.