Casetalk is part of the curriculum at several universities, high schools and in secondary education. Students learn the basics of FCO-IM using CaseTalk and often the final assignment is to make a model of an existing organization of their choice.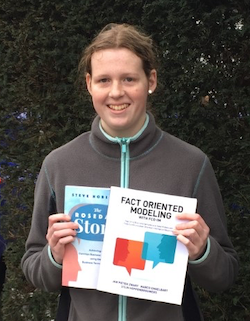 Occasionally we hear of amazing accomplishments. This time we feel the need to congratulate Vera.
Meet student Vera Langeberg from the Niftarlake College in Maarssen, Netherlands. She got a straight A for the theoretical AND practical assignment, even during the lockdown due to the pandemic. Quite an achievement! Our special gifts, safely delivered by her teacher, were a copy of the FCO-IM book, the Rosedata Stone and a CaseTalk mug.
CaseTalk has an educational version that is free to use. The software can be downloaded here.