News
Below you'll find the most recent and general news items. If you're keen on staying connected to read more inside developer stories and previews please join the CaseTalk community.
---
Februari 2016
An extremely quick introduction into the world of Fact Oriented Modeling. It'll show in 10 simple steps how this method of data modeling by example works, and what you may achieve.
CaseTalk Modeler 8.6 and Viewer 2.4
Januari 2016
CaseTalk Viewer v2.4 got a lot better in the ERD area. New exciting options include support for drawing weak entitites, weak relationships, ánd an additional option to turn on the displaying of the original facttype expressions which lead to this entity.
The CaseTalk Modeler v8.6 contains minor updates and fixes and has become more stable and faster in several areas of use. In regard to the Reducing in the transformations, it is no longer implicitly executed within the Lexicalization ("L") phase. So if you see any unexpected behavious, don't forget to turn on Reducing.
Also CaseTalk now allows your Diagram Window information to be exported to a HTML file. It will contain a clickable PNG, the required Expressions and your Richtext notes.
This is how the Viewer will present weak relations, -types, and documentation: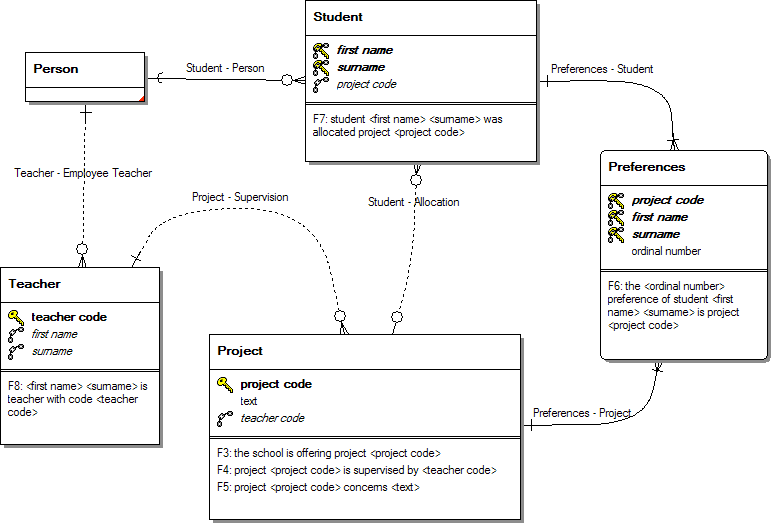 Check the full list of changes is available here: Modeler and Viewer.
CaseTalk Modeler 8.3 and Viewer 2.3
November 2015
CaseTalk Viewer v2.3 has received a small update to better support the legacy transformations in the Modeler.
The Modeler v8.3 received a larger feature, for those of you who are working on large models. You can now easily split the current model, based upon an active diagram, and optionally transform this selection.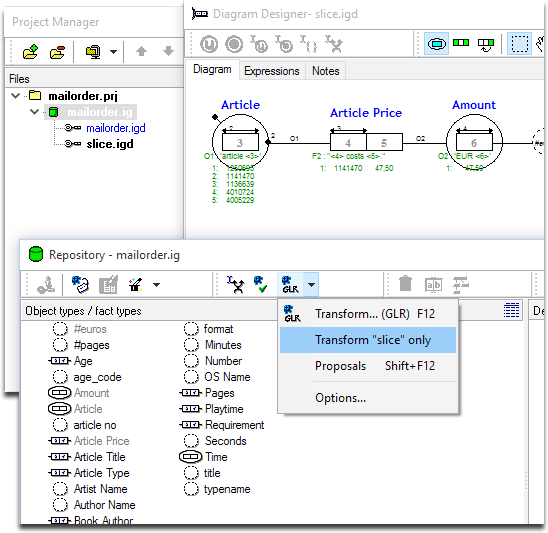 By simply dragging facts into a diagram building your selection. Now when you go back to the repository window, leaving this diagram open and active, select "Transform <YourDiagram> only...". CaseTalk will copy the selected facts into a new model (ig file) and immediately start transforming it.
Great stuff for doing incremental delivery or testing, or simply using parts of your bigger business model for smaller implementations.
A full list of changes is available here: Modeler and Viewer.
August 2015
CaseTalk 8.2 has been released. It contains over 50 different updates. Making it again a more stable and user friendly product. Some of the highlights are:
Windows 10 tested
Many XSD fixes
New SQLite script generation
Updated subset constraint editor
Changed interface to be more consistent
Connect diagram elements using shortest path
Improved several performance issues
...click here for a complete list
CaseTalk sponsors Data Modeling Zone 2015
August 2015
We will be sponsoring, and providing a introductionary workshop to CaseTalk, at the Data Modeling Zone 2015 in Hamburg Germany, and Chapel Hill, North Carolina, US.


February 2015
CaseTalk Modeler 8.1.3 is available for download. It contains some crucial fixes and missing enhancements. We did this release while talking about CaseTalk, software engineering and system requirements to students of Institut Teknologi Del together with Guido Bakema.

For a list of changes, please visit: bugs.casetalk.net
Januari 2015
CaseTalk Modeler 8.1.2 is now available for download. It contains some crucial fixes and a few enhancements. Most enhancements are in the merging area of models. The dialog for displaying and selecting has been enhanced.
You may re-download your copy after logging in at our site. If you want to read all the details about fixes and improvements, please visit: bugs.casetalk.net
December 2014
CaseTalk Modeler 8.1 is now available for download. It contains over 50 new features, changes and fixes. Among the log list are:
Updated prototyper is back in the distribution
Improved generator and support for scripts (e.g. XSD, MySql)
Select the shortest path between two fact types
DBase import and export is back
SQLite has been updated to support common table expressions
and much much more...
You may re-download your copy after logging in at our site. If you want to read all the details about fixes and improvements, please visit: bugs.casetalk.net
<< Start < Prev 1 2 3

4

5 Next > End >>