News
Below you'll find the most recent and general news items. If you're keen on staying connected to read more inside developer stories and previews please join the CaseTalk community.
---
June 2016
CaseTalk Modeler 8.10 is available for download. The major new changes are:
We further fine tuned the user interface:
- Rounded corners in diagrams,
- (Dis)connect buttons in diagrams,
- drag and drop of Aliases and Rolefixes.
Altered distribution to better support:
- Portable App usage,
- RES Workspace Management.
For working on removable media:
- Search Projects from inside CaseTalk instead of manual browsing.
Download your update, or read the full changelog for CaseTalk Modeler.
June 2016
CaseTalk Modeler 8.9.1 is available for download. The major new changes are:
Major improvements in the PowerDesigner plugin.
Filtering the repository can now unhide rolefixes.
Improved project archive handling and menu.
Added support for repository export and import using Excel Spreadsheets.
Download your update, or read the full changelog for CaseTalk Modeler.
CaseTalk 8.8, Viewer 2.5, Manager 4.0
May 2016
CaseTalk Modeler 8.8.2 has just been released and contains over 30 fixes and additions. A few highlights:
Export the repository to a Spreadsheet;
The population can now be edited with a data entry screen;
Export to HTML now supports embedded images. This makes the html files a single stop file, simple to mail and transport;
The Viewer files will show up in the project manager window;
The project manager window shows previews of diagrams when selected.
Also an update of the CaseTalk Viewer v2.5.1 has been released to accommodate the changes in the Modeler. An important addition:
Export the diagrams to image files automatically by user preference.
These files are added to the Modeler project (if both applications are active at the same time).
And the CaseTalk Manager bumped it's version to 4.0 to also step up the feature set. It now further prepares your model storage to the upcoming Intranet Publishing Environment to share your business knowledge with the rest of you company.
Download your update and read the changes for CaseTalk Modeler, CaseTalk Viewer, CaseTalk Manager.
Februari 2016
CaseTalk 8.7 has a few fixes in the area of legacy transformations and verbalizations of rules. The major visual improvement however is present in the repository window. You can now easily view all super- and subtypes, and namespaces (if you have some).
Download your update and read the changes for CaseTalk Modeler and CaseTalk Viewer.
CaseTalk sponsors Data Modeling Zone 2016
Februari 2016
For the second time in a row, CaseTalk sponsors the Data Modeling Zone. This time we'll visit Berlin Germany, and Portland USA.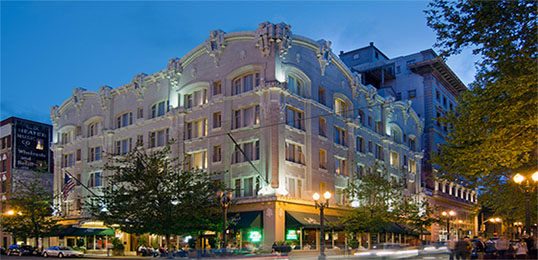 Februari 2016
We've added a new section in our website where you can freely study published models. Please have a look and share your own examples under the Create Commons License.
Februari 2016
An extremely quick introduction into the world of Fact Oriented Modeling. It'll show in 10 simple steps how this method of data modeling by example works, and what you may achieve.
CaseTalk Modeler 8.6 and Viewer 2.4
Januari 2016
CaseTalk Viewer v2.4 got a lot better in the ERD area. New exciting options include support for drawing weak entitites, weak relationships, ánd an additional option to turn on the displaying of the original facttype expressions which lead to this entity.
The CaseTalk Modeler v8.6 contains minor updates and fixes and has become more stable and faster in several areas of use. In regard to the Reducing in the transformations, it is no longer implicitly executed within the Lexicalization ("L") phase. So if you see any unexpected behavious, don't forget to turn on Reducing.
Also CaseTalk now allows your Diagram Window information to be exported to a HTML file. It will contain a clickable PNG, the required Expressions and your Richtext notes.
This is how the Viewer will present weak relations, -types, and documentation: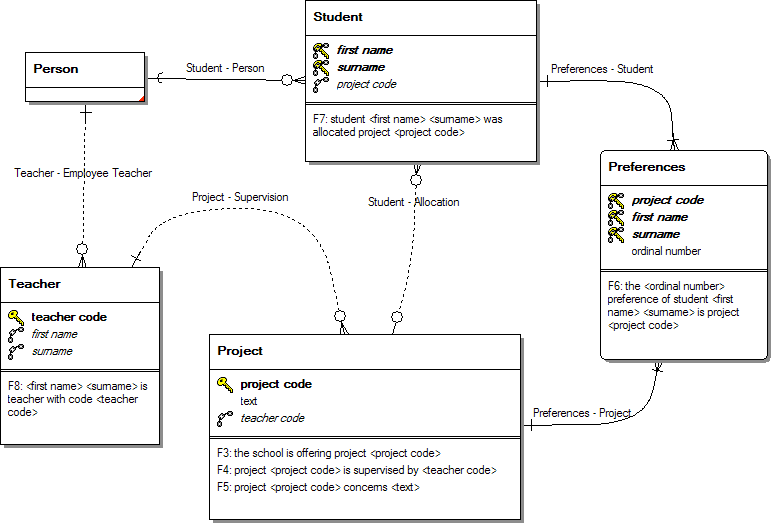 Check the full list of changes is available here: Modeler and Viewer.
<< Start < Prev 1 2

3

4 5 Next > End >>